A MESSAGE FROM OUR FOUNDER AND CEO
CHIEF AYANDA CLARKE
AJIBILU AWO OF OSOGBO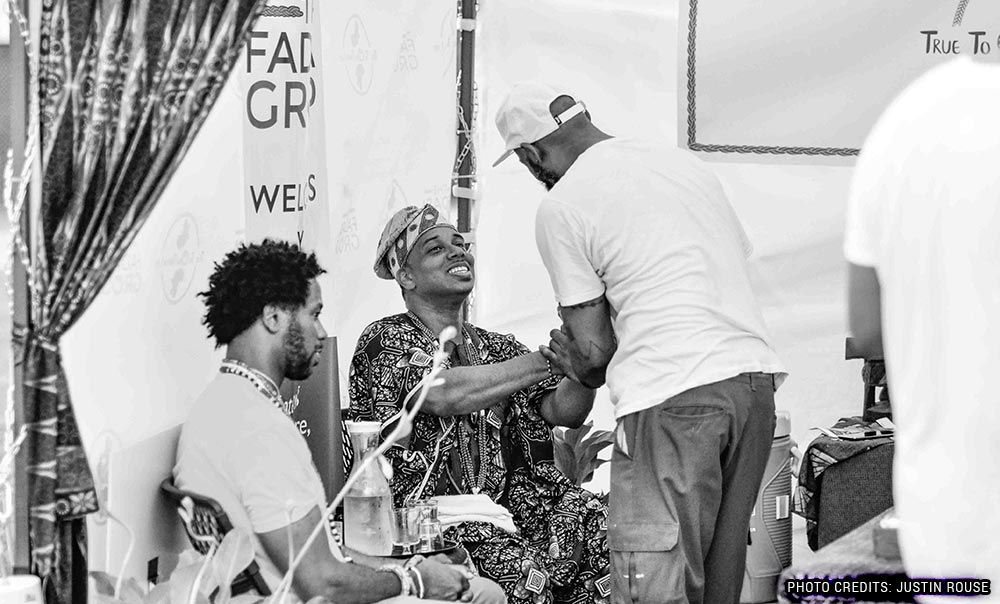 GREETINGS FROM OUR FOUNDER
On behalf of THE FADARA GROUP, it is my pleasure to invite you to be part of our inaugural season for True To Our Native Land, a cultural appreciation program that combines community conversations with a performance showcase featuring some of the most prominent artists from Africa and throughout the Diaspora. It will premiere December 14 – 15, 2018 in Brooklyn, New York and will then travel to cities, colleges, and universities across the United States.
The True To Our Native Land vision was born from a troubling reality where indigenous people, languages, cultures, institutions, history—the very essence—of Africa is globally and commonly misunderstood, devalued, romanticized, and is typically made stale. This imagining of Africa as backward, stagnant, and irrelevant is problematic in the 21st century. With the presentation of True To Our Native Land across the U.S. and then abroad, we will position Africa and all things African in truthful and appropriate context.
As we celebrate the richness and diversity of our culture, the launch of True To Our Native Land will offer our community a weekend of discussion, family-friendly content, music, African drumming and dancers. All, with education and inspiration as the central themes. We intend True To Our Native Land to be culturally enlightening for our attendees and financially beneficial for local businesses who align with our mission. Our organizing committee is preparing for an amazing event and now, we're READY FOR YOU. 
JOIN THE MOVEMENT.
Ire Ooo!
CHIEF AYANDA CLARKE
Ajibilu Awo of Osogbo
Founder and CEO, THE FADARA GROUP, LLC
About Chief Ayanda Clarke
Chief Ayanda Clarke (aka Chief Ayanda) is an African American master percussionist, GRAMMY® Award-winning musician, arts educator, and lecturer. A gifted performer since childhood, Clarke has traveled across several continents performing with some of the world's most revered percussionists. He continues to perform and lecture frequently on African culture and music. Most recently, this Brooklyn-born native New Yorker was a featured artist and percussionist on The Offense of the Drum by Arturo O'Farrill and the Afro-Latin Jazz Orchestra. The recording won a GRAMMY® Award in 2014 for Best Latin Jazz Album.
 Clarke's select list of concert, television, and consulting credits include Carnegie Hall, Lincoln Center, Michael Jackson: 30th Anniversary Celebration at Madison Square Garden,The Late Show with David Letterman, Good Morning America, America's Got Talent, the U.S. Open, and Sesame Street. He has also recorded and licensed music that has been featured on FOX's So You Think You Can Dance.
 A well-rounded percussionist, Clarke has performed with (or has been featured on albums with) world-class musicians and pioneers in African American, African, and world music. A few of them include George Clinton, Erykah Badu, M'bemba Bangoura, Amma McKen, and Somi.
 Clarke began performing professionally at five when he played at the renowned Brooklyn Academy of Music (BAM) with the International African-American Ballet. Since then, he has toured throughout the United States, Africa, Asia, the Caribbean, Canada, and Europe. He learned first from his father, the legendary jazz musician Neil Clarke. He then learned from his other mentors and trainers: M'bemba Bangoura, Abraham K. Adzenyah, the late Orlando "Puntilla" Rios, Souleymane Diop, and other luminaries.
 Clarke's talents have led him to play for, or perform and record with the late Chief Bey, Orlando Rios, Randy Weston, Batoto Yetu, The Amistad Project, Alvin Ailey American Dance Theater, Forces of Nature, Asase Yaa African American Dance Theater, pop artist Jewel, and many others.
With extensive research of the percussive arts—including a wide variety of drums and bells, the balafon, and the shekere—Clarke's expertise spans several musical traditions of Guinea, Mali, Senegal, Ghana, Nigeria, Angola, Cuba, Brazil, the Caribbean, and of African Americans. 
After more than thirty years of study, immersion, deep learning, and training, Clarke has emerged as one of the most highly regarded percussionists of his generation, unique in his ability to cross every musical genre.



"True To Our Native Land" is sponsored, in part, by the Greater New York Arts Development Fund of the New York City Department of Cultural Affairs, administered by Brooklyn Arts Council (BAC). Other sponsors: MyClickUrban + AfricanAncestry.com
Join us for our BROOKLYN Premiere
December 14-15, 2018